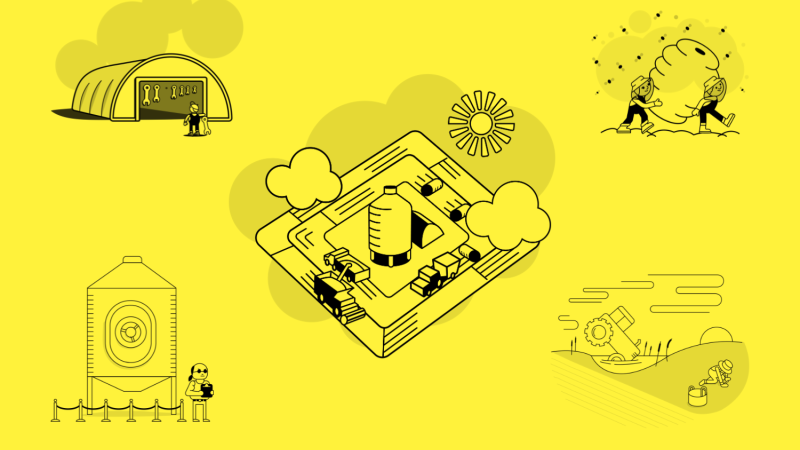 Eee iii eee iii insured! Our FarmSecure products are now available for purchase from a Sandbox broker. 
Why did Sandbox create these farm boxes and bundles?
Economical. Bundling and purchasing packages can offer rewards to policyholders, not only through discounts, but also by allowing you to have additional coverage on something you may not have had previously. 
Faster. Bundles and boxes with Sandbox simplify the decision-making process because they reduce the amount of data input that is required, which ultimately condenses the quoting process. 
Smarter coverage. It prevents comparisons. We do this by bundling insurance coverages, ensuring that our policyholders have comprehensive coverage with fewer gaps and overlaps, and simplifying the overall insurance process so you don't have to compare policies from various providers.
Last but not least, SIMPLE. With a FarmSecure bundle or box, our policyholders can now have a single payment, a single renewal date, and only need one insurance provider, making the management of your insurance policies easier and more secure.
 
Property Protection—what is it?
As a new expansion of our FP101 Rider, this blanket limit coverage accounts for:
Farm Tools

Contents of Outbuildings

Miscellaneous Farm Property and Equipment, including Tack

Fire Department Charges

Debris Removal
We'll protect the stuff, you reap the harvest.
 
What is Production Protection? 
Sure, you've insured the big things. But what about the little ones? Insuring your prairie gold is crucial, and you can do it with our Production Protection if you input or output:
Grain

Fodder

Produce

Silage

Fertilizer/Chemicals

Fuel
So you can protect the little things that keep the big things running.
 
How does Equipment Protection work?
Remember the good ol' days when farmers didn't have big, expensive equipment and had to do it all by hand? Yeah, neither do we. Let's keep it that way. Your farm equipment is critical to your success and efficiency, and choosing Equipment Protection provides blanket limit coverage for:
Harvesting Machinery

Non-Harvesting Machinery

Temporary Replacement Machinery

All-Terrain Vehicles for Farm Use

Loss of Use—$5,000 limit


 
What does the Farm Business Box cover?
Go on. Put all those eggs in one basket! If you are actively farming with over 160 acres of land for grain, livestock, and/or mixed farming operations, you are eligible!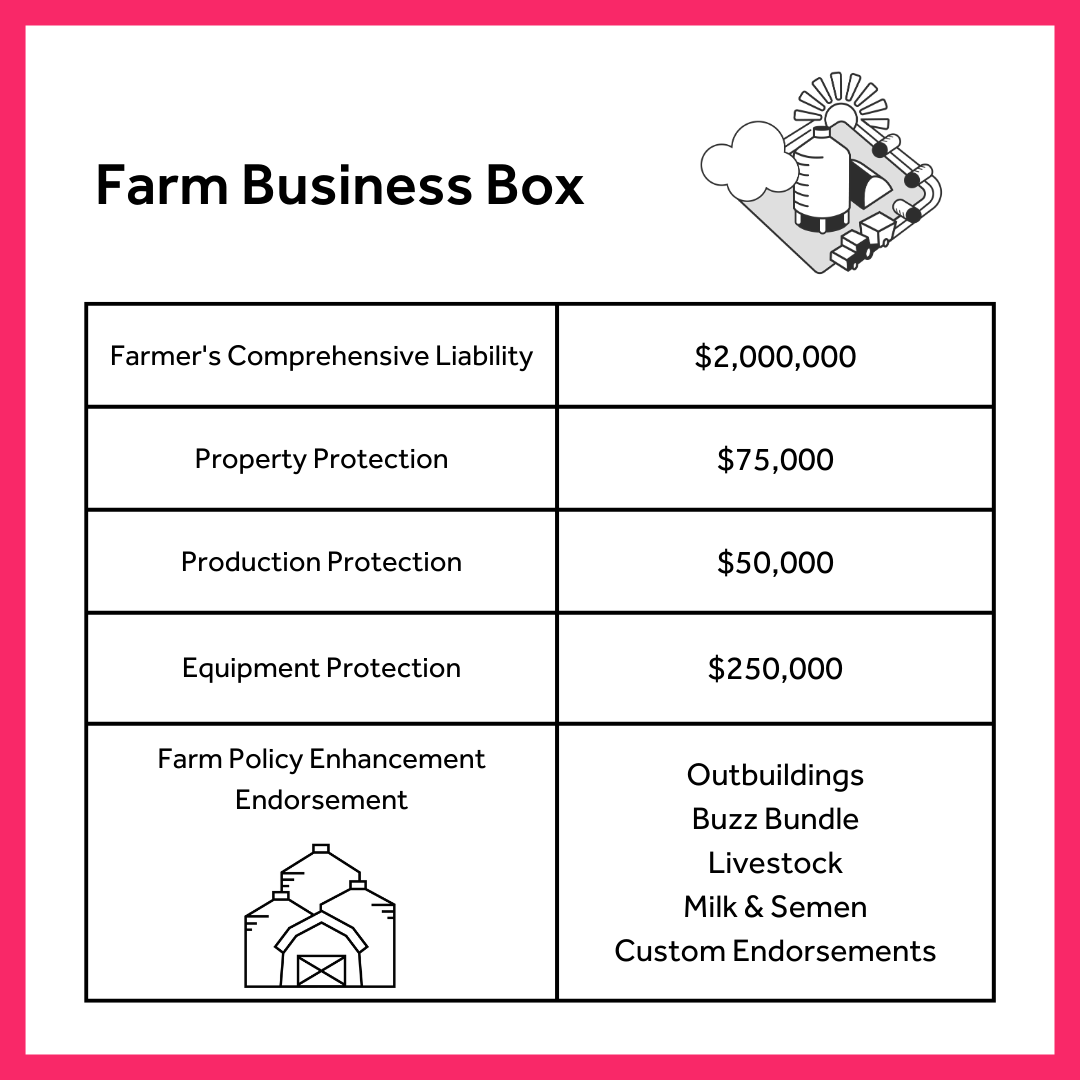 Farm Lifestyle Box: What's in it?
Sure, it's called a "hobby" farm. But we both know it's more than that. The Hobby Box is ideal for hobby farms located outside of town limits where livestock and produce are primarily used for personal consumption.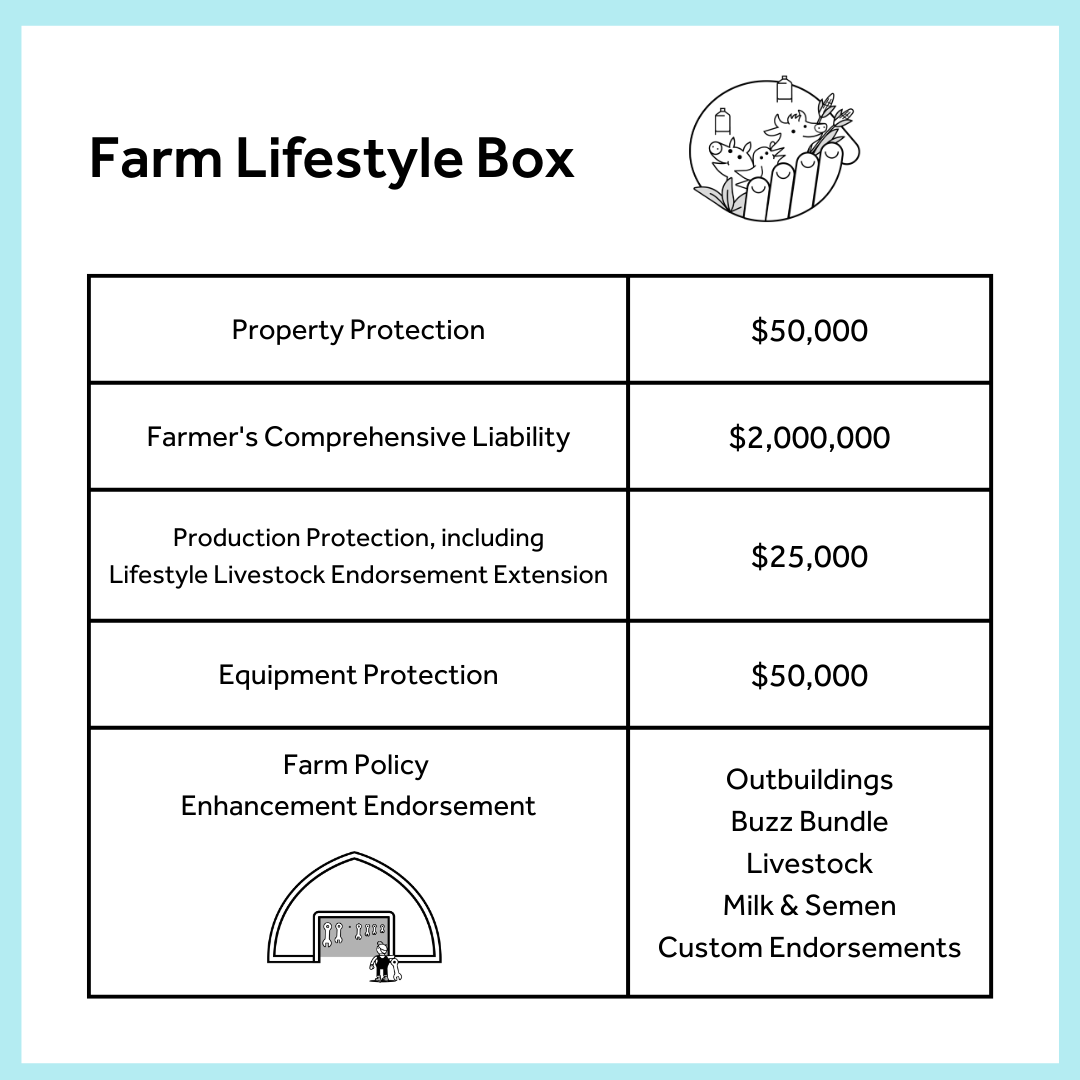 What does the Buzz Box entail?
We're glad you asked! For leafcutter and/or honey beekeepers who do not own a farm or who beekeep in conjunction with their farm operations, this box is for you: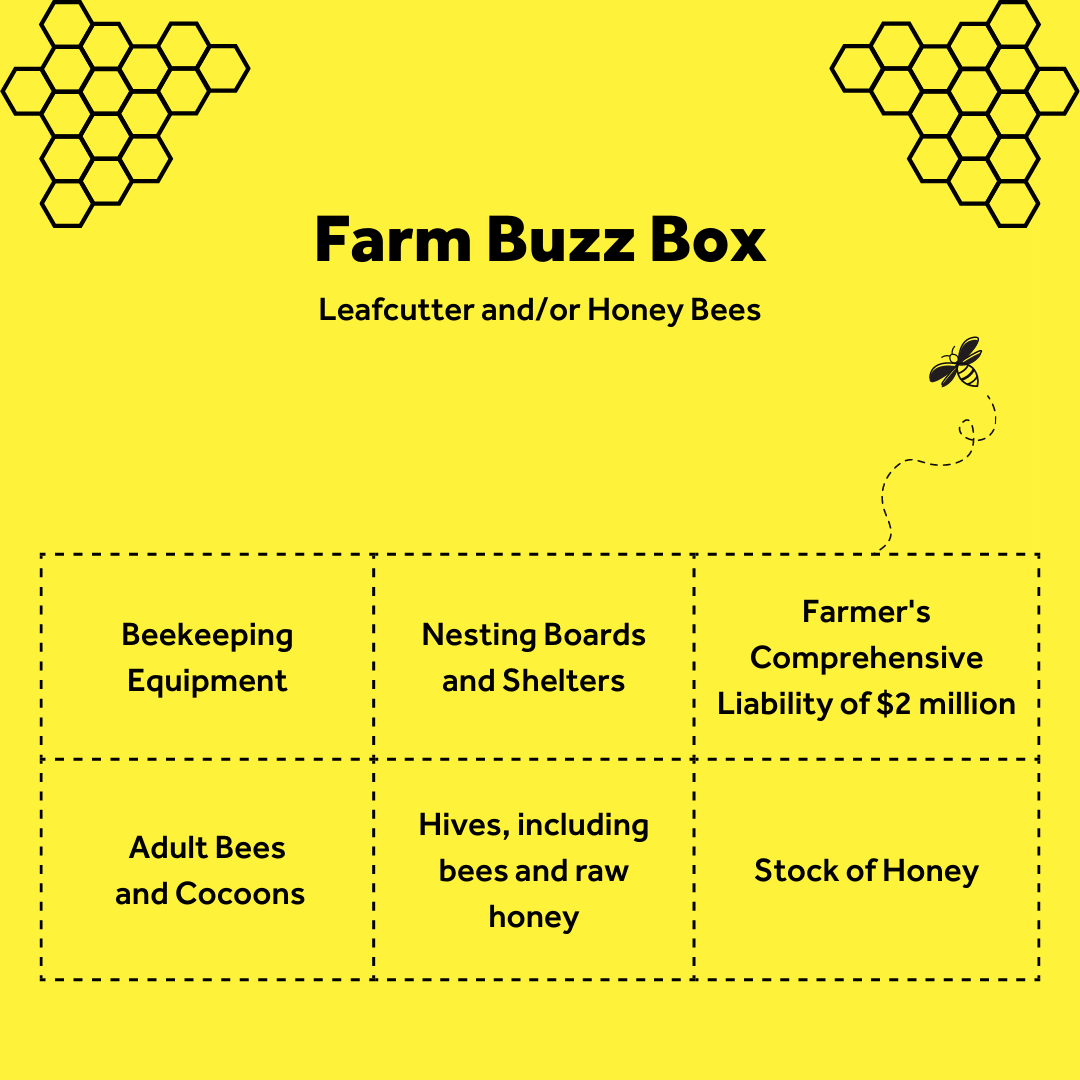 With the Buzz Box, policyholders have the option to increase the included limits to tailor them to their needs. Plus, 10% of the direct written premium on this box will be donated to Pollinator Partnership Canada—now that's something to buzz about!

How can I learn more?
To inquire about the FarmSecure policies, visit our website or reach out to a Sandbox Mutual Insurance broker.