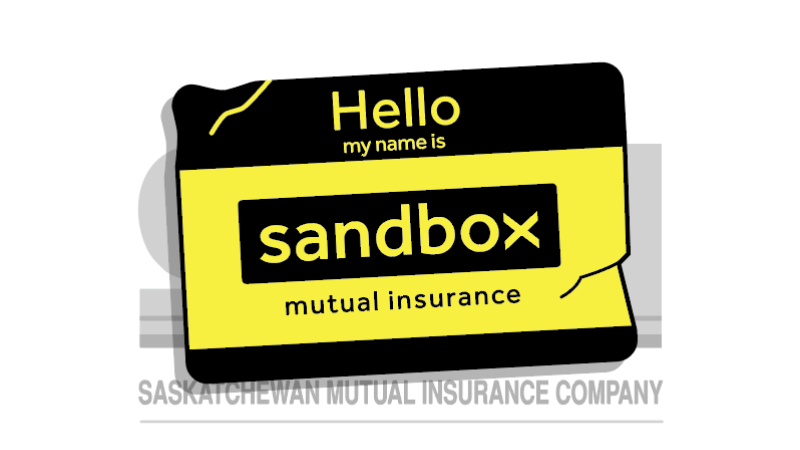 There is a new face in the insurance Sandbox!
We are delighted to share with you that Saskatchewan Mutual Insurance (SMI) is going through a transformation designed to help serve you, our policyholders, even better. 
Effective November 1, 2022, we are now Sandbox Mutual Insurance. 
As part of this transition, we have also moved to a new location. We are now headquartered at:
Sandbox Mutual Insurance
250 Willis Crescent
Saskatoon, SK  S7T 0V2
What does this mean to me as a policyholder?
First and foremost, it is important to note that there will be no change to your coverage because of our transition to Sandbox Mutual Insurance. 
Our rebrand to Sandbox means that moving forward, your policies are issued by Sandbox Mutual Insurance. When you receive your renewal letter, you will be renewing with Sandbox. When you need to make a claim, you will be working with Sandbox to facilitate the claim. When you have questions, Sandbox is here to help you!
What if I am in the middle of an active claim?
If you are in the middle of an active claim with SMI on November 1, do not worry – nothing will change! Your process will not be disrupted, you will continue to work with the same adjuster, and the same SMI team will be here to support you through the process, we just go by Sandbox now! You will notice a change to our email addresses, a new logo on any of the forms you are asked to complete, and your payment cheque will be issued from Sandbox Mutual Insurance. 
Is my insurance broker aware of the change to Sandbox Mutual Insurance?
Yes! We have informed all SMI broker's that we have rebranded as Sandbox. Your knowledgeable and expert broker will continue to be able to help you build the ideal Sandbox policy coverage for your unique and evolving needs. Please contact your broker to find the Sandbox products for you!
To learn more about Sandbox and all our available policy coverages, please go through our new website and follow us on Instagram, Facebook, and LinkedIn!
Thank you for your continued support of SMI and now Sandbox Mutual Insurance. We are looking forward to being the partner you can count on to provide a delightfully simple insurance experience!
Sincerely,
Shelley Willick, President & CEO
Sandbox Mutual Insurance